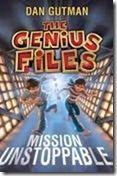 SUMMARY
In eight days, Coke and Pepsi McDonald are going to turn thirteen.
Before then, they'll jump off a cliff, get trapped in the locked basement of their burning school, chased cross-country by murderous lunatics, left for dead in the pit of a sand dune, forced to decipher mysterious coded messages, thrown into a giant vat of SPAM, and visit the world's largest . . . ball of twine!
ABOUT THEM
When Coke was born, his parents had already chosen his name (which had nothing to do with the soft drink). Professor McDonald, Coke's father, had written a book about coal and its influence on the Industrial Revolution. Coke, according to Webster's Dictionary, is the "residue of coal left after destructive distillation." Author Dan Gutman encourages the reader to check that fact out on dictionary.com. The McDonalds thought that Coke would be a great name for a boy –short and strong sounding. However, when shortly after Coke's birth, another baby, a girl, is born, the parents are stumped. What to name the twin sister? As a joke, one of the nurses suggests: "Pepsi!" Everyone laughs, but the name sticks, and Coke and Pepsi start their lives together.
OVERVIEW
Coke and Pepsi McDonald didn't want to jump off a cliff.
They didn't want to get hit by poisoned darts from blowguns either. And they certainly don't want to get locked in their burning school, thrown into a pit at the top of a sand dune, or drowned in a vat of liquified SPAM. But what are you supposed to do when you're being chased across the country by your insane health teacher and two guys in bowler hats who are trying to kill you? One thing's for sure, it'll be a snap for Coke and Pep to write their essays on "How I Spent My Summer Vacation."
Want to join in the fun? Fire up the old Google Maps and follow the McDonald twins as they get chased from the Pez museum to the largest ball of twine in the world.
Watch out for the Frisbee grenades!
CROSS COUNTRYEdit
To see which route they took, Go to link: